Employee Spotlight: Aurelien Poma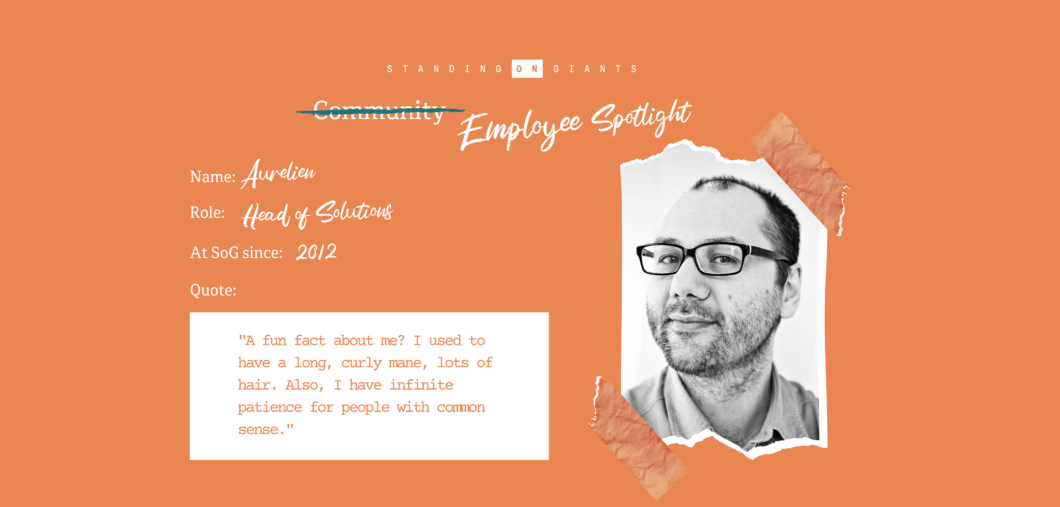 Welcome to our new series of Employee Spotlights, which is inspired by a common content idea across various types of communities.
Community Spotlights highlight one member of the community and allow other members to get to know them a bit better, which is exactly what we're aiming for as well. Since we see the team here at Standing on Giants as a sort of community, we wanted to introduce you to our 'members', and as we think the whole team deserves to be celebrated, you can expect this to become a long-running series!
First off we sat down with Aurelien, our Head of Solutions and long-term Standing on Giants employee. He's the man for everything tech-related and has been with Standing on Giants for 8 years.
We put a series of questions to him, from serious subjects like what issue in the world he is most passionate about, to fun facts about his hair.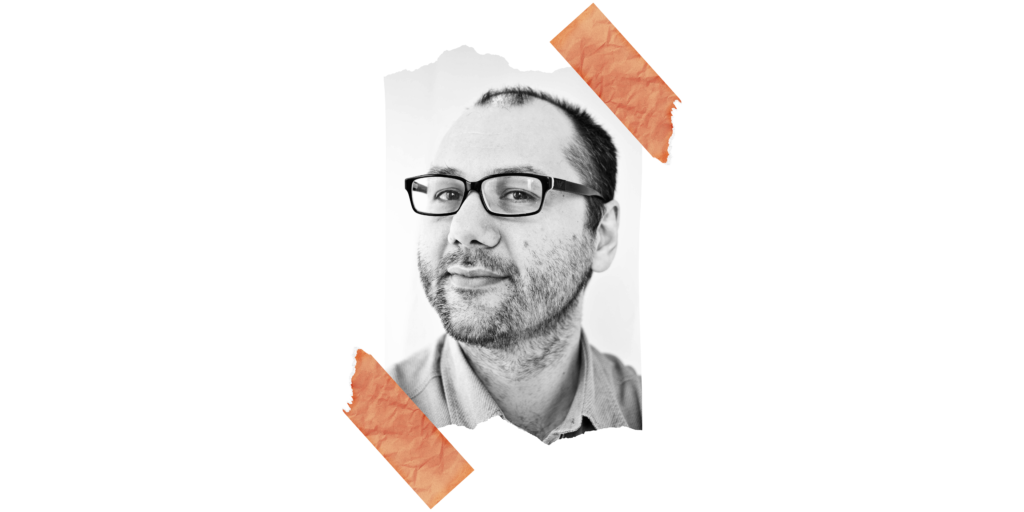 #1 Can you please give a short introduction of who you are and what you do at Standing on Giants?
I am Aurelien (Aure for short) and I am Head of Solutions here at Standing on Giants. I look after the company's technology stack, tech delivery and operations. So in a bit more detail, I look after the technology product – the Standing on Giants platform – working out the roadmap, improvements and bug fixes, architecture, scalability and security. I manage a team of developers and system operators.
I came to Standing on Giants in 2012 through a project that was called TU Me (an early version of WhatsApp, focused on end to end phone calls). Vincent Boon, co-founder of SoG asked me to join the venture, with the idea to take what had been done at giffgaff and apply it to this new community.
At the time it was only Toby, Gaby, Vincent, Robbie and me in the team, and we are all still here at SoG!
I joined them in July as part of the giffgaff/Telefónica team but worked on the launch of SoG which happened in September of the same year.
It was around then we realised that we weren't satisfied with the software that existed at the time, which we basically had to sell to our clients as a community platform. We decided we wanted to build our own technology, which was when I switched from my capacity of Head of Community to Head of Software Architecture. That's what I've been doing ever since.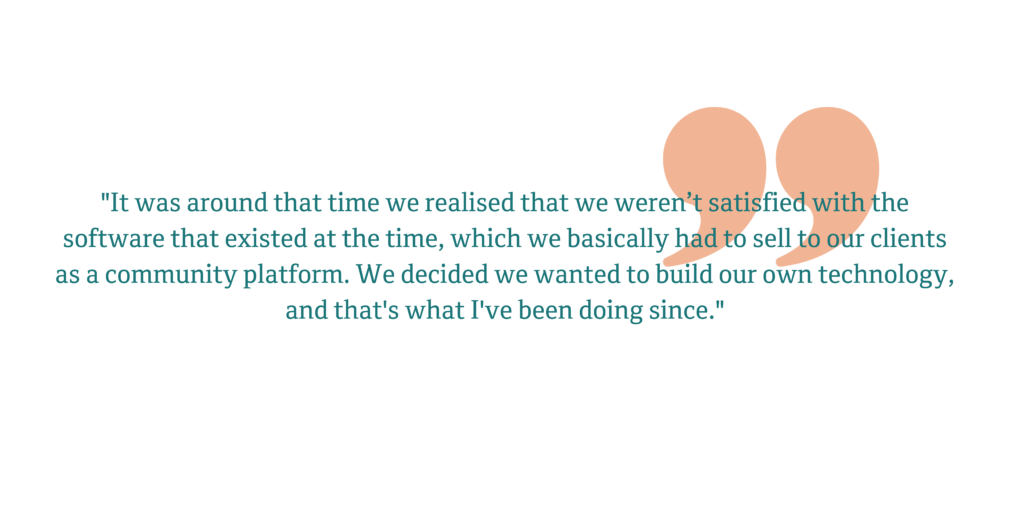 #2 What did you do before SoG?
I started at Sony PlayStation in customer service. I was helping when they launched their online gaming system and I helped customers troubleshoot their connections. It was very new at the time, very complicated, very buggy, people would call and I would go through the steps of logging in and going online with them. It was always the same steps that would cause confusion or the same step they didn't take – so what I realised was that they all had the same problem, they all had the same question. The calls would take between half an hour and an hour to complete – in a day I was able to help about six people, which was so inefficient and highly frustrating. So I helped Sony PlayStation to create FAQs and guides to help more people at a time through a simple online forum.
That was what we called the French-speaking PlayStation forum, which then evolved into a European project and got replicated into many other languages. Sony PlayStation was looking for a Community Forum Administrator and I joined the European team to do the French community. That was also around the time when I met Vincent, as he was also joining the team at the time. I did that for a few years and ended up as the manager of the European team. I led projects that included the US community as well as the Japanese research and developer community.
When I felt I had done everything I could at PlayStation I joined giffgaff in 2012, and the rest is history.
#3 What would you say makes Standing on Giants a great place to work?
I've been here for a long time, so it has changed a lot since I first started. First, I needed a break from my previous job and a new challenge, and I liked Vincent and what he and Robbie had done at giffgaff.
Then, when my role evolved into Head of Architecture, it was learning about technology and the general career opportunity that I enjoyed.
At this point, I would lie if I wouldn't say security is one of the reasons I like being here, but it's also the flexibility that my seniority brings.
And lastly and probably the constant over all of these years, is the people I talk to every day.
#4 If there is anyone in the world you could choose as a mentor, who would that be?
I think that would be Bill Gates, not so much about how he built his business, but his way of thinking and how he is trying to help fix the big issues in the world. And then also Barack Obama, obviously. Or maybe not so obviously, but he is amazing.
#5 What issue in the world right now concerns you the most and you are most passionate about?
The frustration that people feel entitled to give false information, and believe in it enough to try to make others who are maybe less able to judge the validity of information or have fewer resources believe it too. The whole conversation about alternative facts frustrates me, for example the whole anti-vaccine movement: you can be anti-vax yourself, but you can't argue against science and try to pull more people into believing that.
That's what concerns me the most right now, but also how that has changed the political landscape – that we let people get away with lying, especially the extreme left and extreme right – people don't agree to disagree anymore and it drives us further and further apart, there is no common ground. And that circles back to the misinformation issue, people choose to not believe in facts, and some politicians just rectify that as 'opinion'. It's the core issue that slows down the progression of bigger issues, like climate change – it's a ripple effect.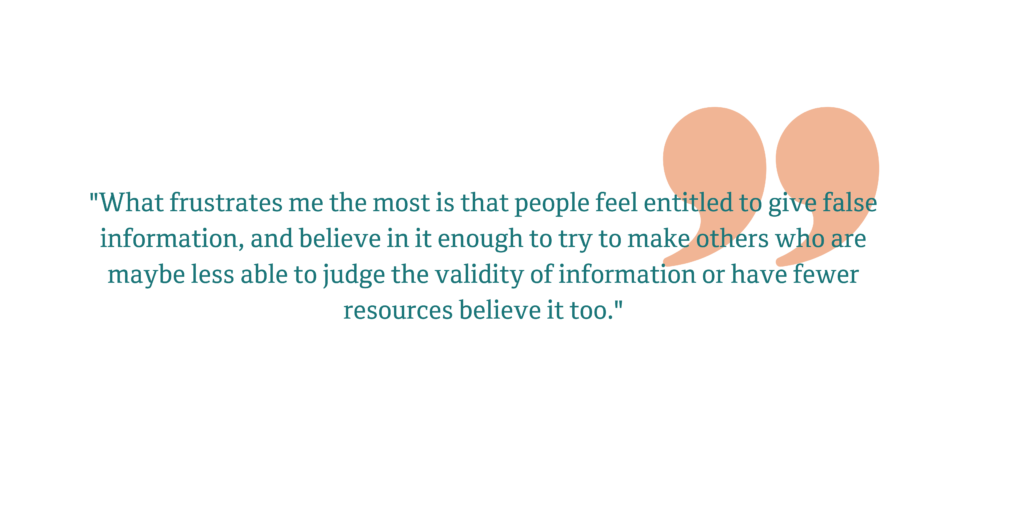 #6 What's a fun fact about you?
I taught French for about two years in Thailand, from 1999 onwards. I programmed HR software for a company I worked for at the time. They took it and sold it for millions to big corporations. My immediate reaction was 'Oh, shame. Could have made some money on that.' Mind you I was 18 at the time. Luckily I was surrounded by people who told me not to let it go, so I got the company to settle the case by paying me for two years without having to work, a good amount of money, which in Thailand is quite a lot of pocket money!
Also, I used to have a long, curly mane: lots of hair.
And last thing, I have infinite patience for people with common sense.
More from the blog
a secret husband, being asked to make the tea, creating comms to span 220 countries… Sally runs Something Big, a…
About the Company Standing on Giants is the world's first agency for businesses that want to build a brand-owned, online…
Hiring ex-offenders, the importance of employee happiness, a business with no marketing department… Timpson has been a fixture on our…