Employee Spotlight: Kirstie Read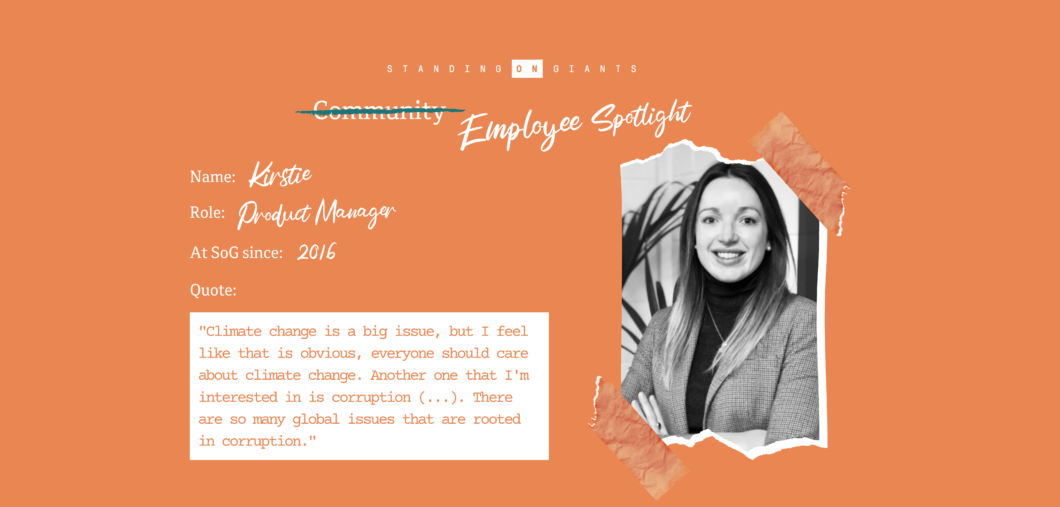 Welcome to our series of Employee Spotlights, which is inspired by the community spotlights we often share in our communities.
Community Spotlights highlight one member of the community and allow other members to get to know them a bit better, which is exactly what we're looking to do here as well. Since we see the team here at Standing on Giants as a sort of community, we wanted to introduce you to our 'members', and as we think the whole team deserves to be celebrated, you can expect this to become a long-running series!
For our third Employee Spotlight, we sat down with Kirstie, our Product Manager here at Standing on Giants.
We asked her a series of questions, from her career path from Community Manager to Product Manager, to what she enjoys most about work, and why corruption is a global issue we should talk about more.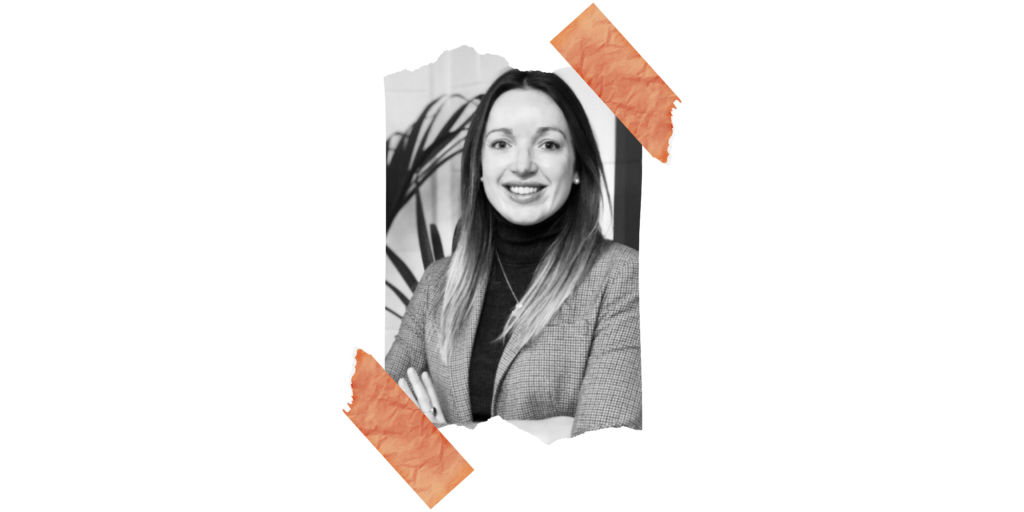 #1 Can you please give a short introduction of who you are and what you do at Standing on Giants?
I am a Product Manager at Standing on Giants. I look after our products: the community platform, community management and our training and mentoring services. So I get to work with lots of different teams and people, work on product development as well as how we position our products. It's great! I really enjoy it, it's good to be involved in so many different parts of the business.
#2 You've been working at Standing on Giants for a while, but you didn't start out as a Product Manager, did you?
I actually first joined SoG to work as Community Manager (CM) in the Airbnb Community. I was there for three years, working first in the English-speaking community, then managing the French-speaking community. I then moved out of Community Management to be a Community Consultant, so I was delivering training and mentoring to clients for a year. I transitioned out of that to focus on our products at the start of this year, so it's been a gradual process to get to this point, and I am lucky to have had the opportunity to do so.
I didn't really know a lot about the world of Community Management when I first started, and I really enjoyed being a CM and learning the trade and the industry. I got to a point where I felt like I was ready for a change and at that time, the consultancy side made sense because, before joining SoG, I was a teacher, so delivering training and mentoring to clients was a good fit.
Over that year I realised that developing the products we use to deliver training was probably what I was best at and what I enjoyed the most. Together with Zsuzsanna, who I am lucky enough to have as my direct manager and who's also the CEO, we explored what would be the best fit for me. She's been really supportive of me and helped me understand what my strengths are. So we landed on the role of Product Manager, and I've really enjoyed taking on this challenge.
I am still learning about all the things this role entails, and because I am the only Product Manager in the company, it's constantly evolving, but I think it's wonderful to be able to take on a new role in such a supportive company.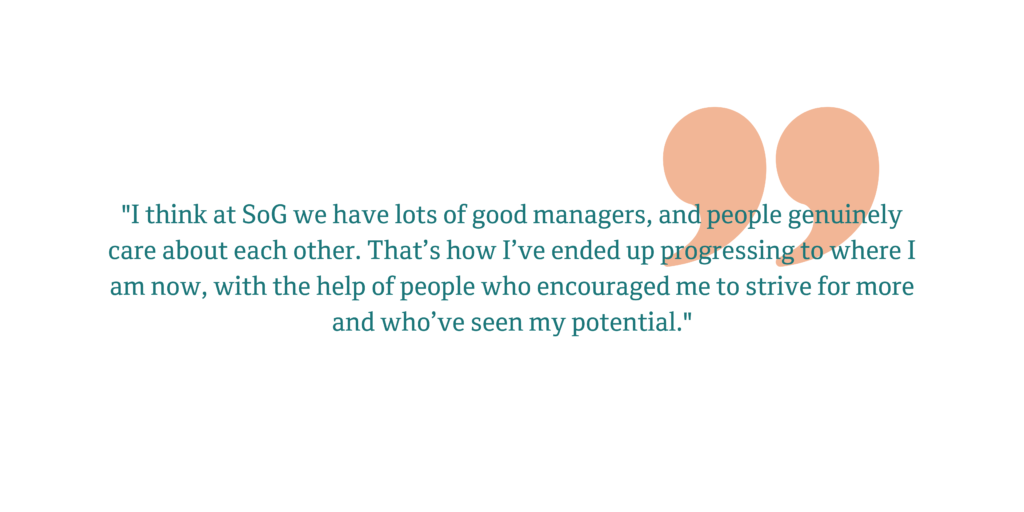 #3 What do you like most about working at Standing On Giants?
I think what I enjoy most about working here are the opportunities to grow and learn as an employee. We're always looking to help each other progress, but all while making sure that everyone feels comfortable and supported, rather than stretched. I think I've always been very lucky with who my managers have been, but I don't think that's just me in particular. I think at SoG we have lots of good managers, and people genuinely care about each other. That's how I've ended up progressing to where I am now, with the help of people who encouraged me to strive for more and who've seen my potential. I think that's the best thing about SoG – the supportive and non-competitive environment, where people look out for each other.
#4 What's something that you learned recently?
I've been listening to a lot of podcasts recently and many of them are about human psychology. So I've been learning lots about how the brain works and why we act in certain ways, and that also ties in with some training we've been doing as a company which is about soft skills and behaviour.
One thing I've learned is that people require human interaction to be happy, and that has obviously been very difficult in the last year. But the interesting thing is that it's not only interactions with people we know and love which are important, but also the ones with strangers – so, therefore, things like going to the shop, getting a haircut, buying coffee and interacting with people at the lift in your office building are all important for your wellbeing.
This is not something people actively seek out, therefore they don't know that they are missing it. I think in the modern day, aside from the pandemic, we've moved most of our lives into the digital world, so the need to travel or go to shops is removed, which is interesting because we actually would benefit from them.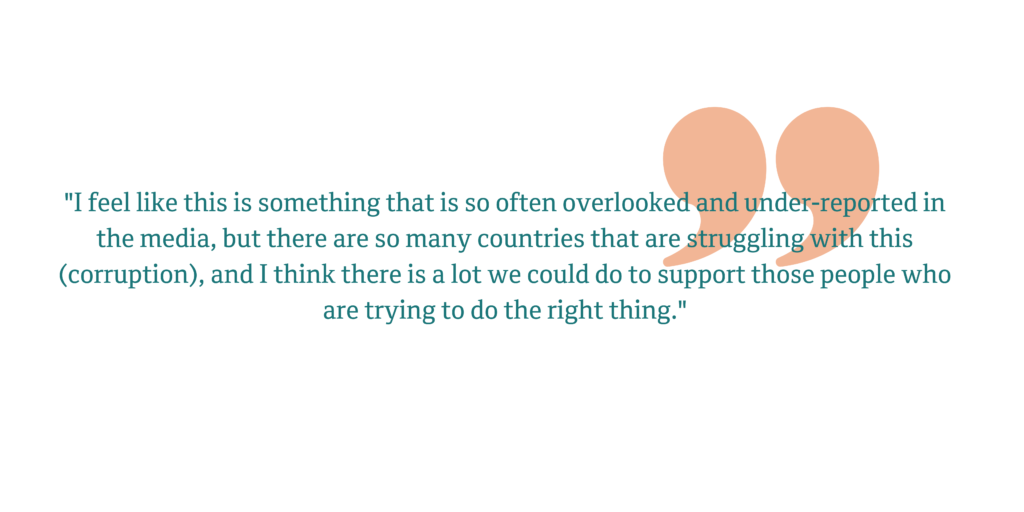 #5 What's an issue in the world right now that concerns you or you are passionate about?
Climate change is a big one but I feel like that is obvious, everyone should care about climate change. Another issue that I'm interested in, and I think that's because of the work my brother does, is corruption. My brother runs an NGO, the Accountability Lab, which works in countries/areas with corrupt governments and they encourage and train local people to fight corruption in whatever way they can, often by celebrating those who are not corrupt rather than focusing on the bad apples.
I feel like this is something that is so often overlooked and under-reported in the media, but there are so many countries that are struggling with this, and I think there is a lot we could do to support those people who are trying to do the right thing. We should support those who are trying to fight the corruption that, for example, only allows you only to go to university if you know the right people, or doesn't allow women to get the jobs they want unless they do certain favours for the men in power. There are so many global issues that are rooted in corruption.
#6 What's a fun fact about you?
I play Ultimate Frisbee, which is a sport that not a lot of people know about – but it is a real sport (not just throwing a frisbee back and forth on the beach), and I played on the university team!
#7 What's the last book you read?
I've recently been reading 'The Art of Gathering' by Priya Parker, it's a fascinating book about how to successfully organise and host gatherings of any kind. It's definitely made me reflect on what makes meetings and parties work well and the psychology behind it, I'd recommend it!
More from the blog
a secret husband, being asked to make the tea, creating comms to span 220 countries… Sally runs Something Big, a…
About the Company Standing on Giants is the world's first agency for businesses that want to build a brand-owned, online…
Hiring ex-offenders, the importance of employee happiness, a business with no marketing department… Timpson has been a fixture on our…