Employee Spotlight: Tobias Bignell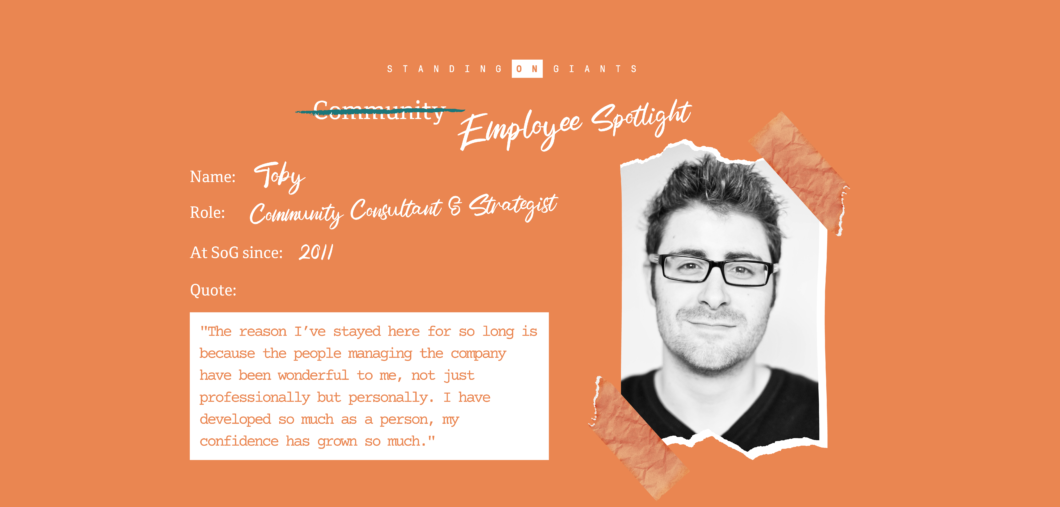 Welcome to our series of Employee Spotlights, which is inspired by the community spotlights we often share in our communities.
Community Spotlights highlight one member of the community and allow other members to get to know them a bit better, which is exactly what we're looking to do here as well. Since we see the team here at Standing on Giants as a sort of community, we wanted to introduce you to our 'members', and as we think the whole team deserves to be celebrated, you can expect this to become a long-running series!
This time, we sat down and talked to one of our longest-standing employees (no pun intended) Toby, who's come a long way since starting as a Community Coordinator at giffgaff in 2011.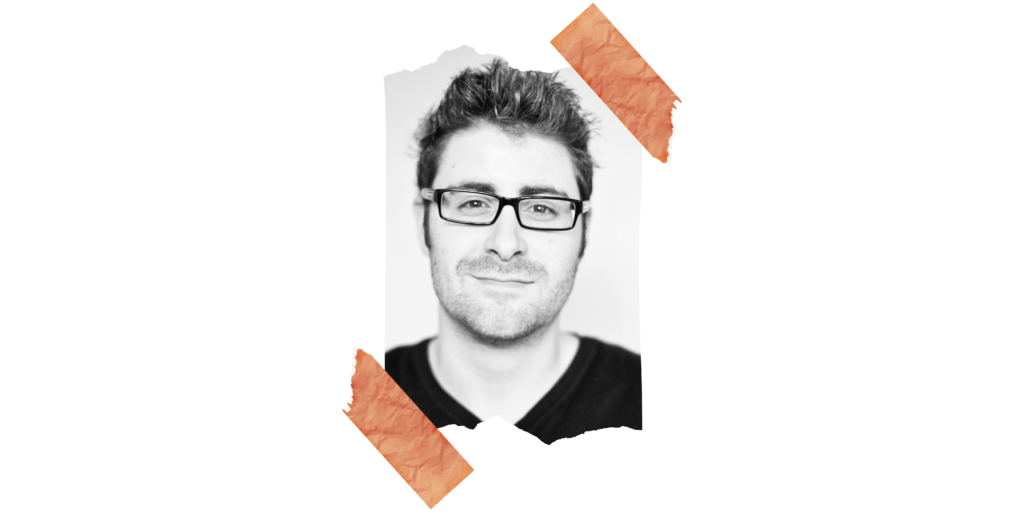 #1 Can you please give a short introduction of who you are and what you do at Standing on Giants?
Yup, I'm Toby. I'm a Community Consultant here at Standing on Giants. I help clients with strategy, planning and any questions or issues they have with their online communities. This involves leading workshops and providing ongoing mentoring. I'm a Standing on Giants veteran, having been with the company since the start. I joined having worked with Robbie and Vincent (our co-founders) at giffgaff, where I was a Community Coordinator.
#2 Joining giffgaff at the start must've been quite an experience. Can you tell us about that?
I was fresh out of university and working in a customer service job. I'd just taken the first job I could find to be honest. Then, one day, I was cold-called out-of-the-blue by a recruiter about a job at a new company called 'giffgaff'. I'd never heard of them and to be honest, when I looked at their website I wasn't sure it was even a real company – they had no phone number! I went to the interview half expecting to be the victim of an elaborate scam.
At the interview, I heard more about the company and their idea to have no call centre, no stores, just an online community. I have to say I wasn't convinced, but it was clear that Vincent (who was Head of Community at the time) knew his stuff and so I took the job knowing that it would at least be a lot more interesting than what I was currently doing. Looking back now it's really one of those moments that could have taken my life in a completely different direction. I'm glad I went for it! I learnt so much at giffgaff and I soon saw how powerful an online community could be for a brand. Our members would do incredible things for us, from helping us test and isolate network issues, to creating marketing assets, to even creating a production and distribution system for SIM cards! When Robbie and Vincent asked me if I wanted to join them in their new venture to build online communities for other brands, I jumped at the chance.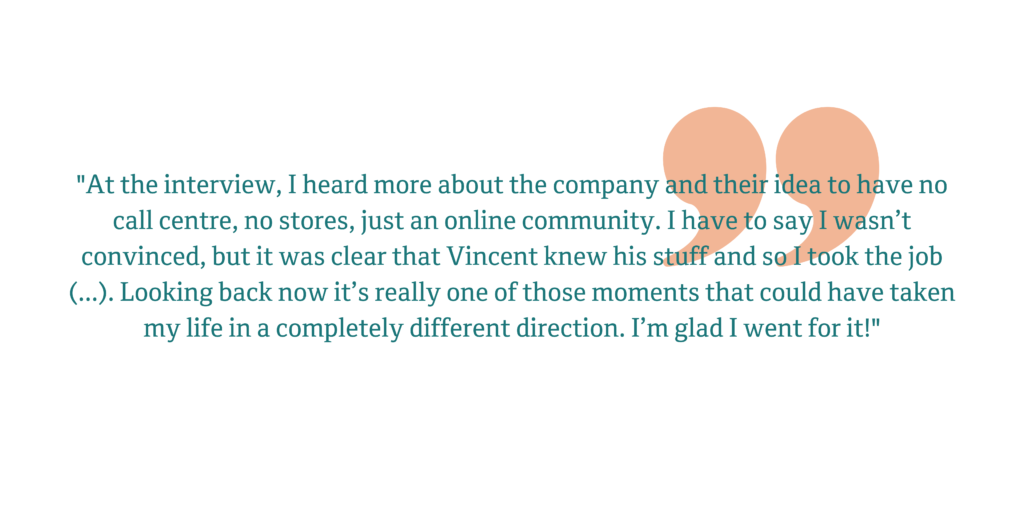 #3 You're the longest-serving team member at Standing on Giants. What's kept you here for all that time?
The reason I've stayed here for so long is because the people managing the company have been wonderful to me, not just professionally but personally. Vincent and Robbie have been open and allowed me to develop in Community Management, but also my business development, consultancy and delivery skills. So, even though I've been in this company for ten years I've done four or five jobs now. It feels like I've had a massive variety. When I started here I was 21. I was very shy and easily intimidated, and just by being in this supportive environment I have developed so much as a person, my confidence has grown so much.
Although I don't have any comparison, when I hear about how some other companies operate, how my friends sometimes describe their jobs and how their teams work, I still haven't come across another company that I would rather work for.
A lot of companies pursue profit and growth at all costs. We do work for profit, of course, but we also work for people. We think about our impact on the world. I also think that what we do for businesses is a noble thing. We bring the customer to the forefront and help them have their voice heard.
#4 A big part of your role is mentoring our clients as they build and grow their online communities. If there is anyone in the world that you could choose as a mentor, who would that be?
Puh! There are quite a few people coming to mind. Stephen Fry, I like him a lot. This sounds a bit silly but there are characters in shows that I love as well, like Hal from Malcolm in the Middle. That's what I want to be like if I become a Dad: he's not the brightest but he's a good dad, loves his kids and will always stand up for them. So, I'd love to have him as a mentor. Can I have both?
#5 Yes, you can have both! What's an issue in the world right now that you're passionate about?
As someone working in online communities, you see the best and worst of the online world. I really don't like how if you disagree with someone online it means you hate them, that's often how it's perceived anyway. I think it's really important in our communities that we maintain an environment that isn't that, that is open and welcomes people from different backgrounds, identities and perspectives. I think social media can be a toxic place full of judgement, criticism and attacks, and it's only getting worse. It's our job to keep the communities we create healthy, open and safe.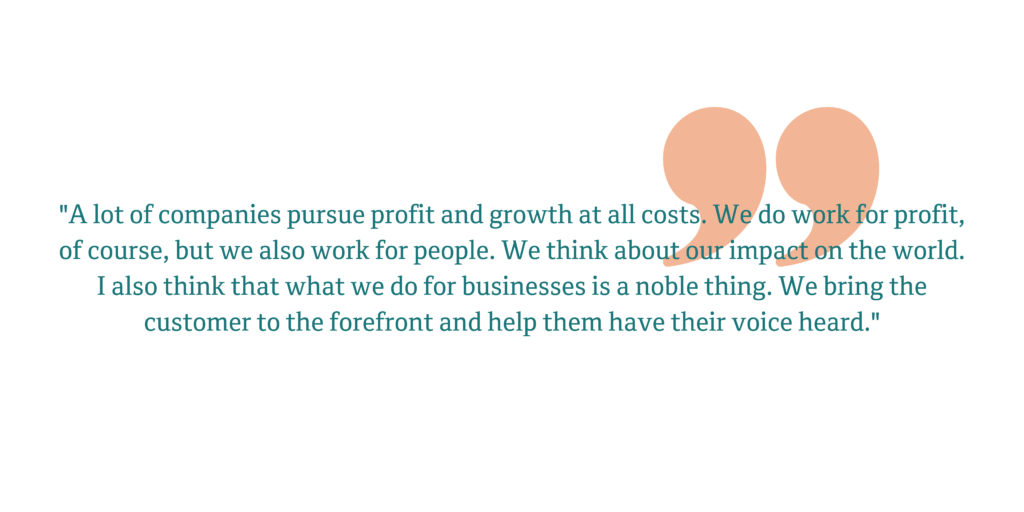 #6 What's a fun fact about you?
My original career choice was to be a fireman, but I couldn't do that because of my colour blindness. So I am now working in Community Management which is a bit of a weird trajectory. I once grew eight inches in one year, which made all my bones ache and my skin stretch (I am 6'6).
More from the blog
a secret husband, being asked to make the tea, creating comms to span 220 countries… Sally runs Something Big, a…
About the Company Standing on Giants is the world's first agency for businesses that want to build a brand-owned, online…
Hiring ex-offenders, the importance of employee happiness, a business with no marketing department… Timpson has been a fixture on our…