Employee Spotlight: Emily Gallagher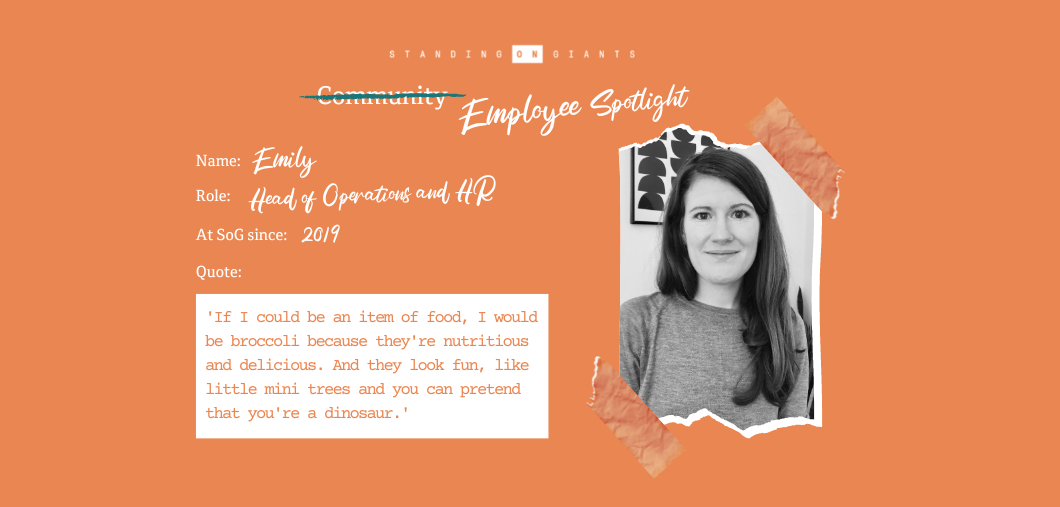 Welcome back to our series of Employee Spotlights, which is inspired by a common content idea across various types of communities.
Community Spotlights highlight one member of the community and allow other members to get to know them a bit better, which is exactly what we're aiming for as well. Since we see the team here at Standing on Giants as a sort of community, we wanted to introduce you to our 'members', and as we think the whole team deserves to be celebrated, you can expect this to become a long-running series!
This time we sat down with a special giant. Emily Gallagher is head of operations and HR and responsible for making the company run smoothly every day.
Hey Emily, welcome to your spotlight and thanks for joining us. For an introduction, could you tell us who you are and what you do at Standing on Giants?
Yes. My name's Emily Gallagher and I am the head of operations and HR at Standing on Giants, which I think, to summarise, means I do magic and move things in the background to keep the business functioning well.
When you started, you had a completely different job. You have had quite a journey at SOG, from office manager to head of operations and HR. What did you tell yourself when you actually started at SoG?
So, when I started at Standing on Giants, it was a very different world. We had an office for a start, hence I was the office manager. It was a small company and it was the first time I had worked at a small business with a more progressive culture.
So I think, in the beginning, I was just telling myself to absorb as much as I can in terms of information about the business and what they were doing and learn how they were operating in that way. I think I was just totally surprised by how lovely the people in the business were. I've never had a job like that, where people were just so kind and it was really our own community: A community that was building communities, which is really nice. I was just really excited to be part of it.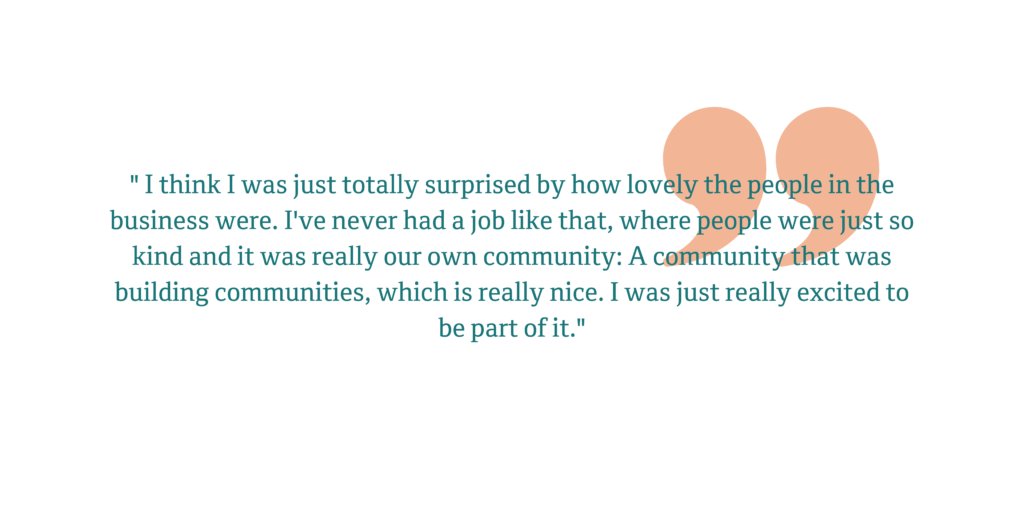 Since you joined, the company has grown massively and we're now over 50 people. How do you even handle all of the people at the same time?
I guess so much has changed since I started. There's more process and structure in the way that we run the business now. Going from 25 people to 50 people is a different business.
I used to very much be like the mother hen for everybody, you know, trying to fix things and do things for everybody. That's not the case anymore.
In the past year, Zsuzsanna has established a leadership team, which is really working well. Managers are more empowered to respond to any questions and inquiries from their team members directly rather than having to come to me.
And then obviously I have Jonelle working with me. She is a total dream and makes work a lot easier.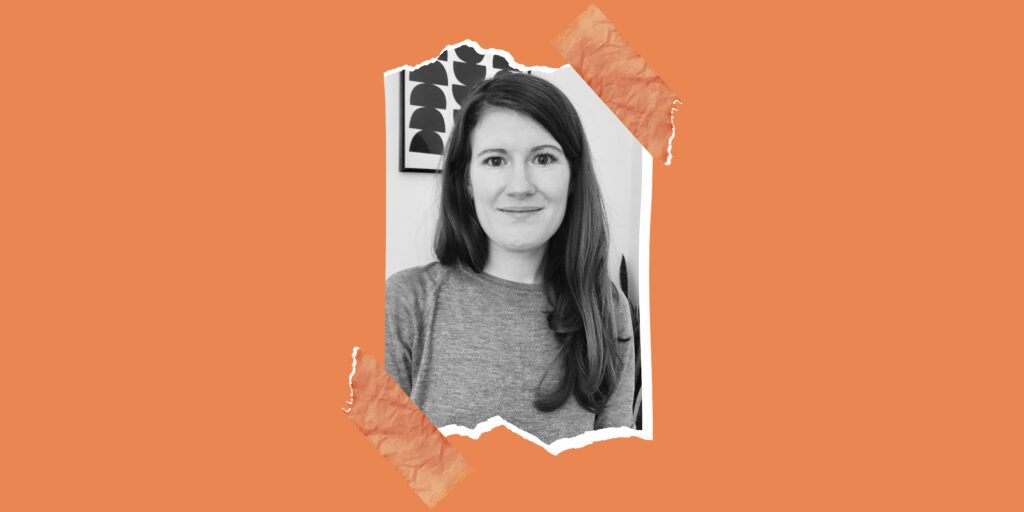 COVID changed a lot at Standing on Giants. Your job changed quite drastically during the pandemic – from office manager to going fully remote. What were the biggest challenges?
I think initially, the biggest challenge was trying to make sense of everything. We left the office and in my mind, we were leaving for two weeks, and then we'd come back. But then we didn't.
We started interviewing people and had others who were starting remotely, which was a really unknown thing for us at the time.
We had lots of juggling laptops and couriers and things like that. So that was a bit of a challenge but I think we learned and adapted really well. We're now obviously a fully remote business and we hire people around the world and that's been a really exciting challenge actually – learning how to be a sponsor for people moving to the UK and how we can set everything up for people to work from different countries too.
You know, our employees now work in places like Canada, Colombia, Hungary. It was a big learning curve for me.
You recently got married. Congratulations! What would you say is easier: organising a wedding or organising the company?
Organising Standing on Giants is easier for sure. Anytime we organise a team event, a party or anything like that, the whole team is so grateful. So whatever sort of stress is happening during the run-up, it's just so worth it. Because everybody is so happy and having a good time and I really love that part.
So now we're going back in time. What would you say is your proudest achievement?
In my first year after joining, we got the company B Corp certified, which Rob led and I contributed to. It was a joint project that I was super proud of. It shows that we really do care about the planet and people.
I cannot not mention ISO certification. It was my project and I did a lot of work needed for it and I really didn't have much faith in myself getting through it and we did! I am very, very proud of that too. We had been working on it for about a year so it was great to complete it earlier this year.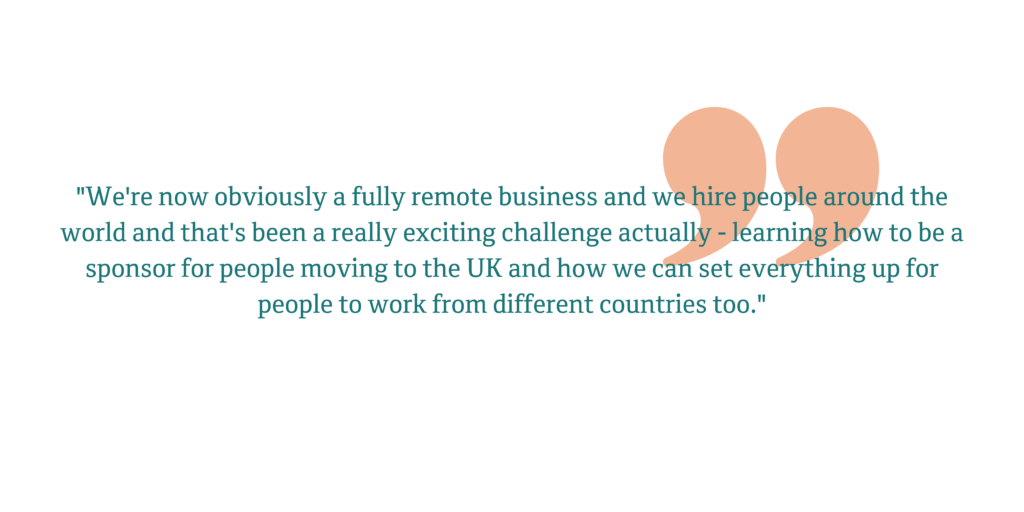 Emily, you are the manager of our music channel on our company Google Chat. You are obviously a big fan of music and a keen festival goer. What album should everyone listen to and which album should no one buy?
So, I'm going to give two answers for the first one and none for the second because I don't want to criticise anyone's taste in music. All music is beautiful and lovely to somebody.
So two albums that I think everybody should own: number one is actually an EP by a person called Ruth Mac and it's called 'Living room' and it's beautiful. She's based in Berlin but is Irish and she makes beautiful folky music. I think everybody should go out and listen to that right now.
And another favourite of mine is a compilation album called 'We out here' and it has lots of different artists on it and is something that I always go back to and listen to.
Speaking of Google Chat – we do not have a vegan channel yet but we have quite a few vegans in the company. If you had to be a food for the rest of your life. What food would you be?
I'm going to give two answers. If I could be an item of food, I would be broccoli because they're nutritious and delicious. And they look fun, like little mini trees and you can pretend that you're a dinosaur. And then, if I had to be a meal, I'd be a curry, because there's just so much variety there, you can be a dhal or a vindaloo or a korma. You could be something different every day.
More from the blog
a secret husband, being asked to make the tea, creating comms to span 220 countries… Sally runs Something Big, a…
About the Company Standing on Giants is the world's first agency for businesses that want to build a brand-owned, online…
Hiring ex-offenders, the importance of employee happiness, a business with no marketing department… Timpson has been a fixture on our…