Employee Spotlight: Marjo Hallapera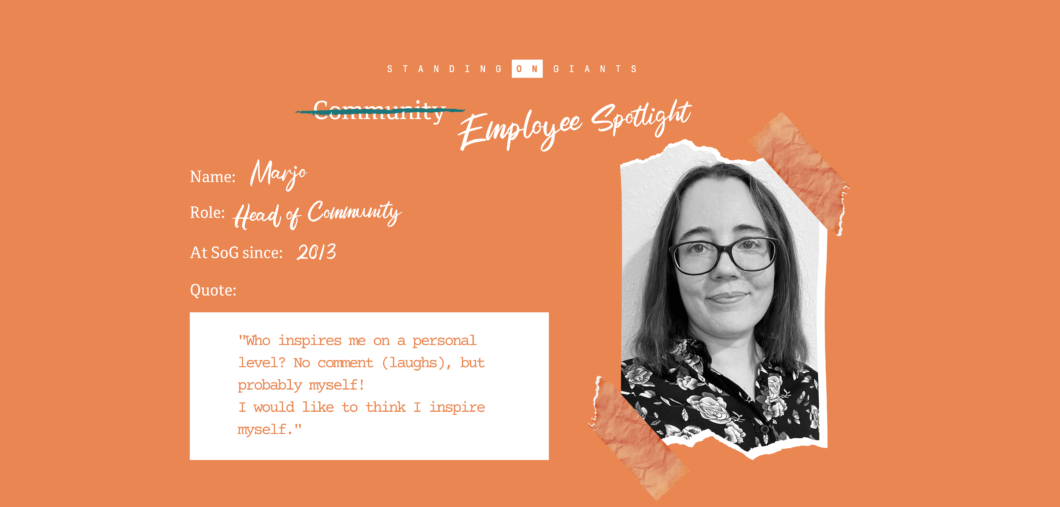 Welcome to our new series of Employee Spotlights, which is inspired by the community spotlights we often share in our communities.
Community Spotlights highlight one member of the community and allow other members to get to know them a bit better, which is exactly what we're looking to do here as well. Since we see the team here at Standing on Giants as a sort of community, we wanted to introduce you to our 'members', and as we think the whole team deserves to be celebrated, you can expect this to become a long-running series!
For our second Employee Spotlight, we sat down with Marjo, our Head of Community at the Lenovo Legion gaming community. She's one of our longest standing employees, joining Standing on Giants all the way back in 2013!
We asked her a series of questions, from subjects like mental health to who inspires her in her professional and private life.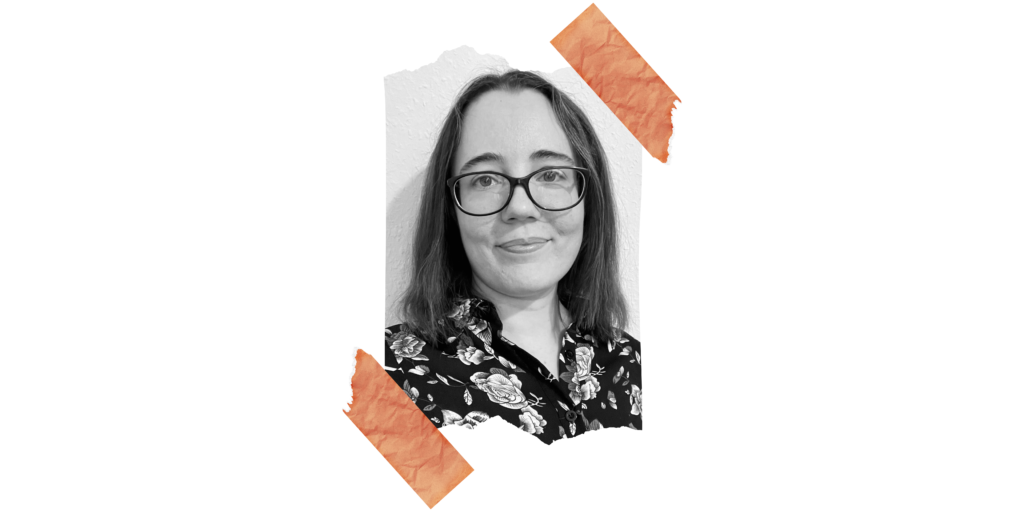 #1 Can you please give a short introduction of who you are and what you do at Standing on Giants?
My name is Marjo, I'm originally from Finland but have lived in the UK for years. I'm Head of Community (HoC) for the Legion gaming community. There, I manage a team of three Community Managers who all work on different language forums within the community.
#2 What did you do before SoG and how did you find out about us?
I worked for the Finnish Sony PlayStation community up until 2013. This was where I met Aurelien, who worked there for a long time as well. He told me about giffgaff, and when I needed a change from my role at PlayStation, I decided to apply there, which worked, luckily. I was there for a few months and worked a lot around Robbie and Vincent, who had already founded Standing on Giants and were still in the same office space as giffgaff. We talked a lot about the business and their ideas, and so when there was an opening for a Community Manager (CM) at Standing on Giants, I joined their team. I don't think there was a proper interview, it all happened very organically.
#3 What has your career progression at SoG been like?
I went through a few different positions in my time here, starting as the CM for an Irish telco community. After about a year and a half I moved on to the O2 team as Head of Community (HoC), which was the first time I held this position. We then acquired Airbnb as a client, and I helped get the community started as HoC there. After that, I needed a break and had to take time off for personal reasons.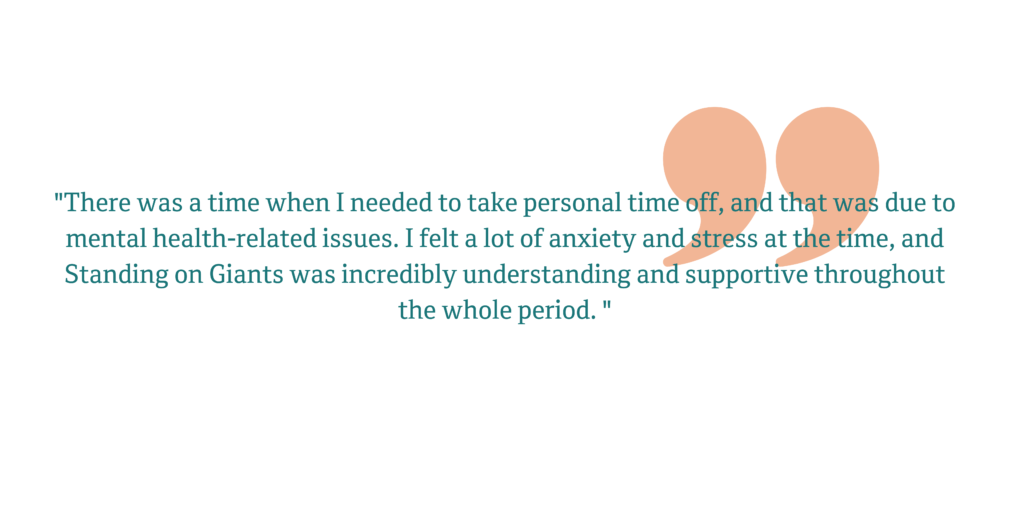 #4 What would you say makes Standing on Giants a great place to work?
As I just mentioned, there was a time when I needed to take time off, and that was due to mental health-related reasons. I felt a lot of anxiety and stress at the time, not necessarily from work but from other factors in my personal life, and Standing on Giants was incredibly understanding and supportive throughout the whole period. They made it very easy for me to step back, no questions asked, and let me know that I could return any time. I left my role as HoC for the Airbnb community, and after my break, returned as a CM in the O2 team.

This was such an interesting and teaching experience – Toby was HoC at the time. Back when I used to hold this position I managed him, and now he managed me. It was so good to see how he had progressed and developed.
After a while as CM and after Toby progressed on to another role, I took on the position of HoC for O2 once again, and kept it until last year when we acquired Lenovo Legion as a client.
So I think what makes Standing on Giants a great place to work is the support you get here. The company really gave me the time and room to explore how fast I could go, taking it step by step, which was especially important as my mental health issues related to anxiety. A position like HoC holds a lot of responsibility, not just for the performance and strategy of that community, but also for the people you manage. So taking it slow was key.
#5 What would you describe as one of your biggest achievements at SoG?
I would say that my growth as a people manager has definitely been something that I am proud of. Looking back at my first proper team management experiences, first with O2, then Airbnb, then O2 again and now Lenovo – I feel like I've learned a lot.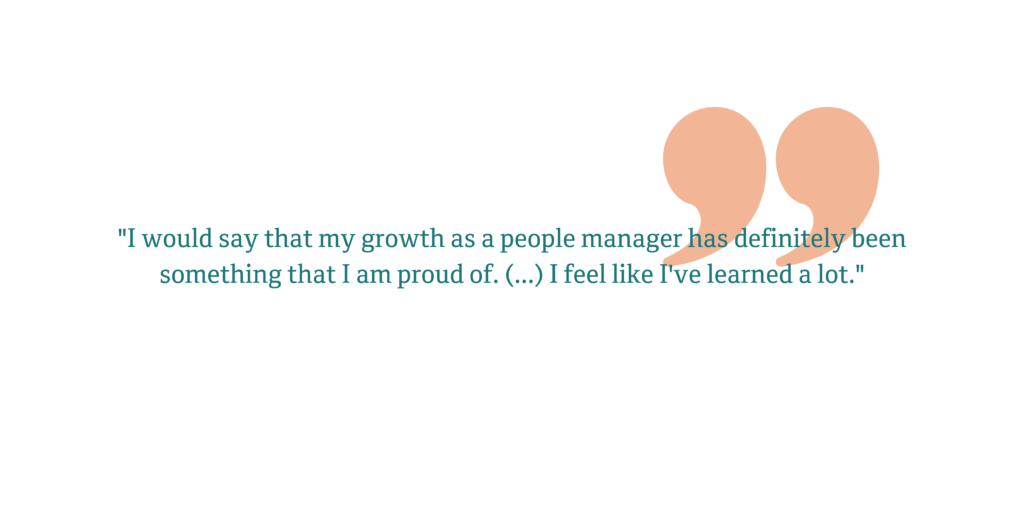 #5 Who inspires you in your personal and/or private life?
I'd have to say Zsuzsanna, our CEO. First of all I leave every one of our meetings inspired and motivated. I get so much out of her coaching experience, ideas on how to think differently, think on a higher level, and tips on team management – which is very important to me.
On a personal level? No comment (laughs)… but probably myself! I would like to think I inspire myself.
#5 What's something you learned recently?

Because I'm working in the games industry again after so many years, I'm starting to get back into the loop of what's happening. I've not been actively involved in these developments for so long, so I learn something new every day. And there is probably also an aspect about having learned something about myself – my adaptability surprises me, having moved from a help-focused community like O2 to a gaming community like Lenovo.
#6 Is there a fun fact about you?
Oh I really don't like this question, because I don't think there is! I don't think there is anything gripping about me! (laughs). I really don't have anything unusual about me that would satisfy that question, but if anything, I have sometimes entertained the thought of trying every single coffee bean in the world – so yes, I love coffee.
More from the blog
About the Company Standing on Giants is the world's first agency for businesses that want to build a brand-owned, online…
About the Company Standing on Giants is the world's first agency for businesses that want to build a brand-owned, online…
About the Company Standing on Giants is the world's first agency for businesses that want to build a brand-owned, online…